Boating at Fish Creek Pond

Back in the 40's and early 50's, 'Terrible Terry' the park ranger was a handful. He would ride around the campground on his World War II old Harley motorcyble, which was painted a dull green. It was very common that after dark he would hide in the bushes near site 305 and wait for drivers returning from the drive-in theatre, just this side of Tupper Lake, as they re-entered the camp at the exit at site 305. (back then it was not closed to traffic at 8:00pm as it is now). But the drivers often would be going faster than the 5 mile an hour maximum. 'Terrible Terry' would take off after the speeding campers and really give them hell for speeding. You could hear him for several camp sites in both directions. This got to be a nightly event. (Glen Peters)
Back in the late 40's camp sites 250 and 251 had wooden platforms with tents erected upon them, and these sites were reserved for forest rangers or camp employees vacations. I believe these sites lasted well into the 50's before they were removed and became available to the general public. (Glen Peters)
Fish Creek Pond is a canoeist/boaters paradise. Whether you bring a canoe, kayak or motor boat, you'll be sure to have plenty of waterways directly accessible from your campsite waterfront including one of the Adirondacks best boating lakes, Upper Saranac Lake!
Canoes and Kayaks can be rented from the Upper Saranac Marina as well as pontoono boats and fishing boats, located just outside the park on Route 30. They can be reached at 518-891-0480.
Canoes can also be rented from MAC's Canoe Livery in Lake Clear, just north of the campground. Vist them at http://www.macscanoe.com/
A truck also passes through the park with canoes for rent each day.
There are several routes through interconnected ponds and creeks (some involve short portages) for canoeing.
For the boater, you can boat on the main ponds at Fish Creek (no motor boats are allowed at Rollins Pond), as well as the vast Upper Saranac Lake, home to many of the Adirondack Great Camps. Personal watercraft are allowed on the ponds at Fish Creek as well.

A fine boat launch can be found within the park across from site 33
Don't forget that you are not allowed to park your boat and trailer at the boat launch other than to launch your boat or pick it up.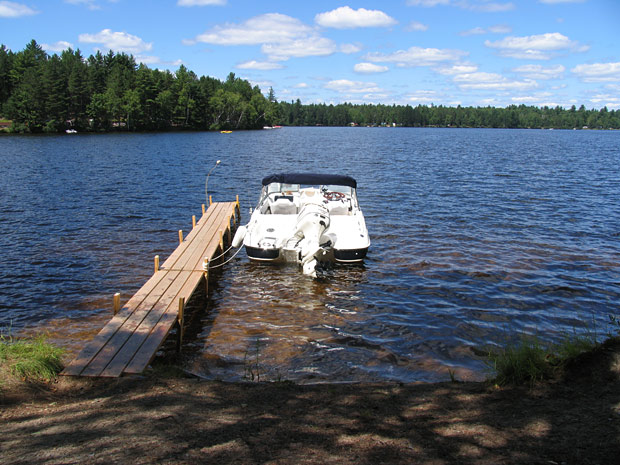 Campers at Fish Creek are quite skilled at building their
own docks at their campsites for their boats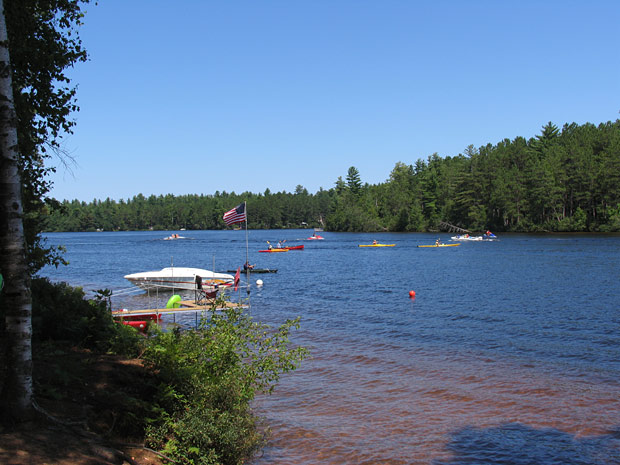 Canoes, kayaks, motor boats and personal watercraft all share the 3 main ponds
that make up 'Fish Creek Ponds'
Kayaks and canoes usually head up from there into the connecting streams and ponds where motorized boats are prohibited.
Boaters and waterskiers can head out the connecting waterways to the large open waters of Upper Saranac Lake.
The 3 ponds that make up 'Fish Creek' generally see heavy motorized traffic in the summer months (July/August). Many boaters will be seen out enjoying water skiing, wakerboarding, knee boarding and off course tubing. The ponds tend to be only quiet in the off season (Apr-late June and September on).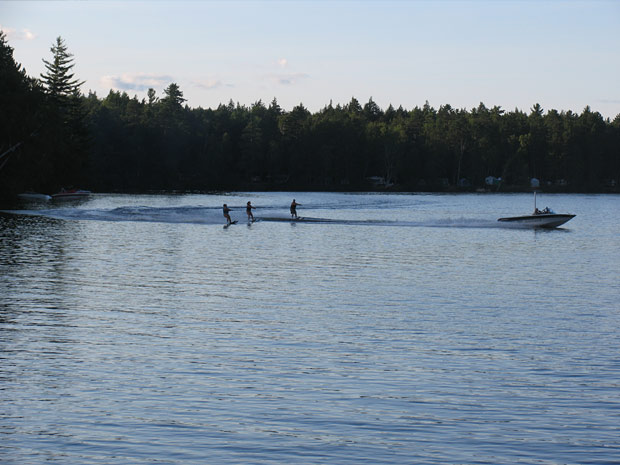 Square Pond is the largest pond within the park and is large enough for the many
water skiers that enjoy it daily in the summer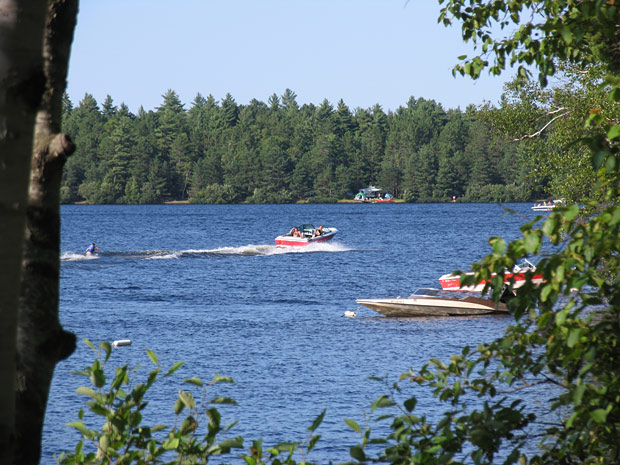 Boats must take care to stay at least 100ft from shore to help prevent errosion of the shoreline.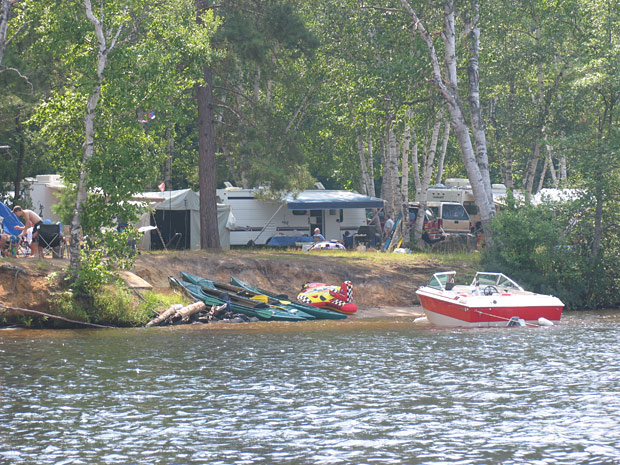 With the many boats parked at campsites, it is also wise to stay clear of the shore to
prevent snagging anchor lines which dot the shoreline.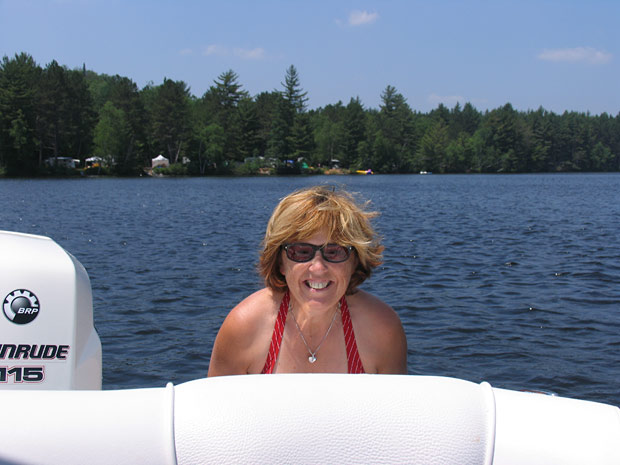 The ponds are actually quite shallow and warm up nicely by late June. The swimming is great!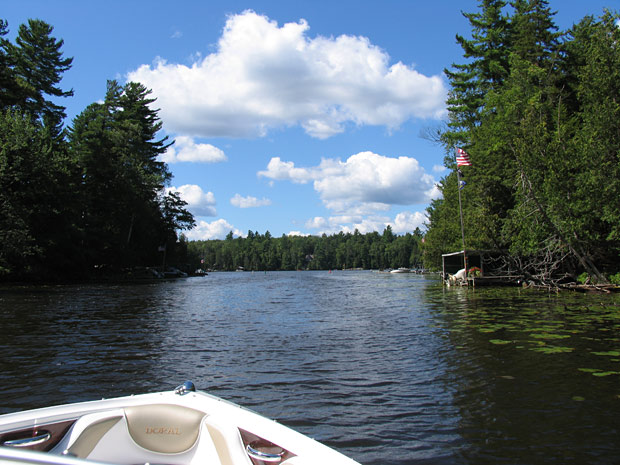 Heading up through the channel, boaters have easy access into Upper Saranac Lake.
This does involve some slow cruising as much of the channel has a 5 MPH maximum speed limit!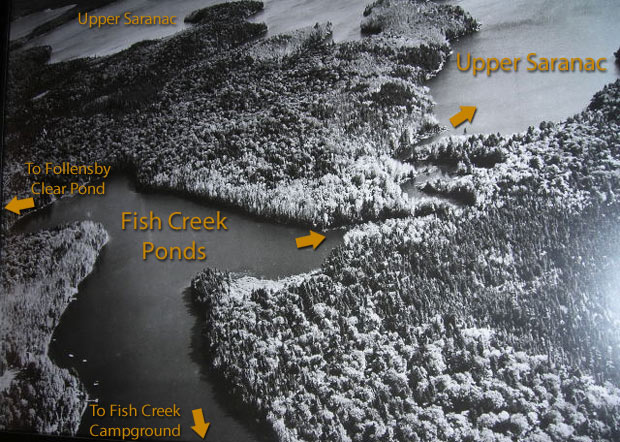 iHere as an ariel view of the channel from Fish Creek Ponds out into Upper Saranac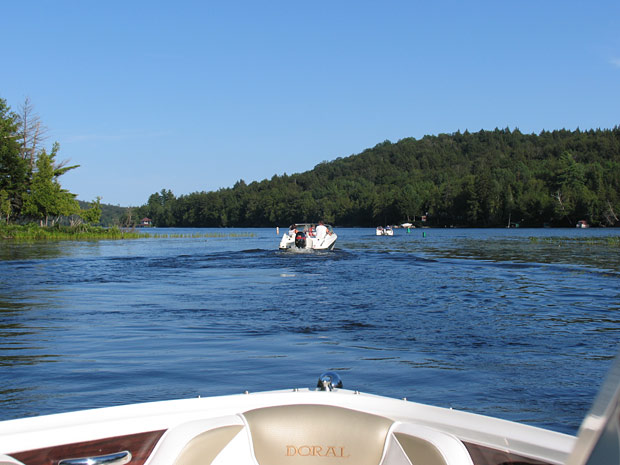 Here we are arriving from the channel into Fish Creek Bay on Upper Saranac Lake
Be sure to check out Upper Saranac Lake for much more big lake boating opportunities at Fish Creek!
Related Topics: