Upper Saranac Lake

Upper Saranac is consider by many, one of the best boating lakes in the Adirondacks with many islands and panoramic mountain views. Saranac is also home to many great camps, numerous college and youth camps and famous resorts including The Wawbeek (now closed to the public) and The Point. Upper Saranac is 7.5 miles long with a maxium width of about 1.5 miles and features 37 miles of breath taking shoreline with views of the distant high peaks. It also features 20 primitive campsites available on a first come, first serve basis.
Access by boat from the campground at Fish Creek (see Square Pond map center) is via Fish Creek Ponds and the creek into Fish Creek Bay on the middle west side of Upper Saranac. See photos in our Upper Upper Saranac photo album.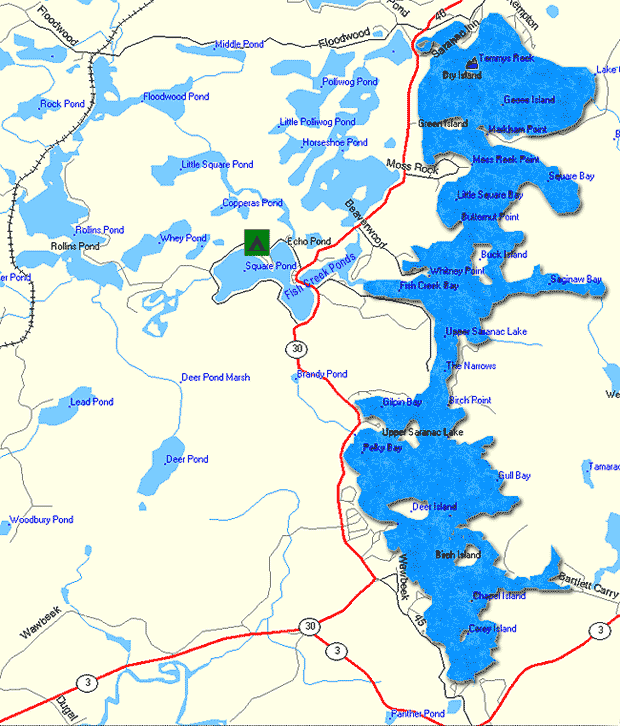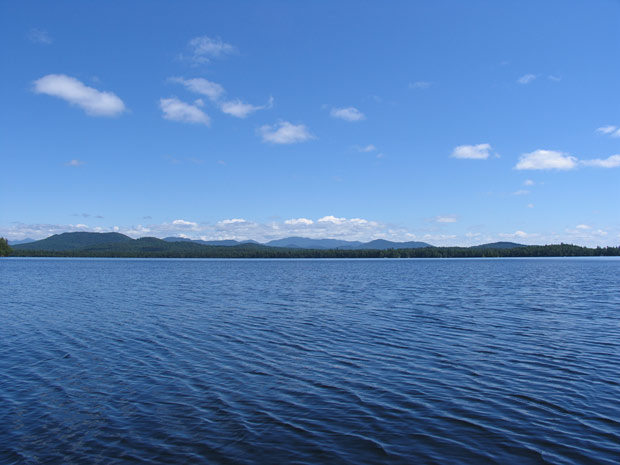 Upper Saranac Lake offers some amazing scenery including mountain views
in all directions, shores of pine trees and of course the many
great camps that line the shore.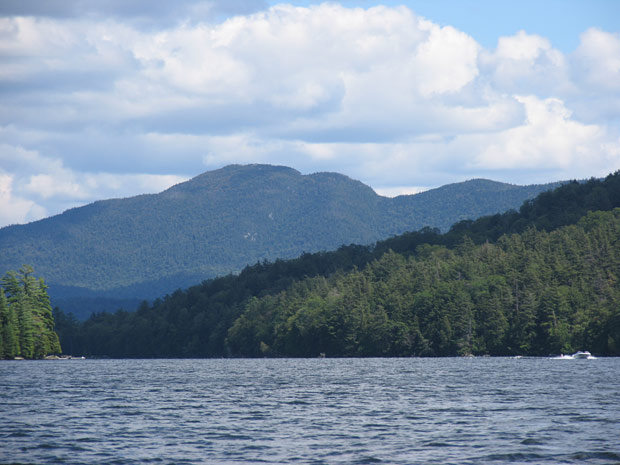 Fine mountain views to feast your eyes upon including great views of Ampersand Mountain to the east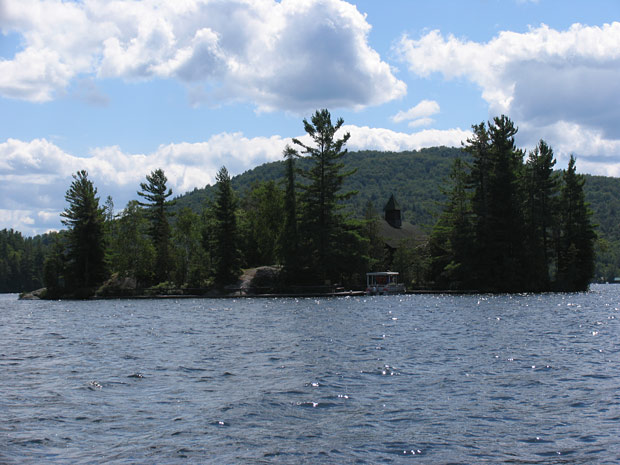 You can even attend church on Sunday mornings on Chapel Island!
(See southern area on the Saranac Lake Map - above, just south of Birch Island)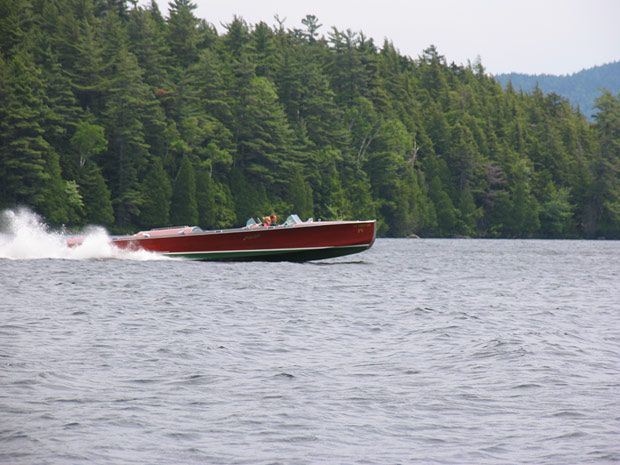 While out on Upper Saranac you'll be sure to see one of many antique
wooden boats that can be seen motoring down the lake, including The Point's
classic 33 ft mahogany Hackcraft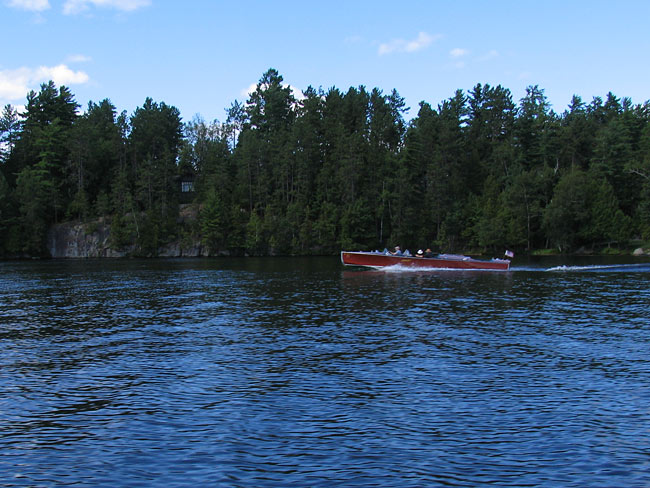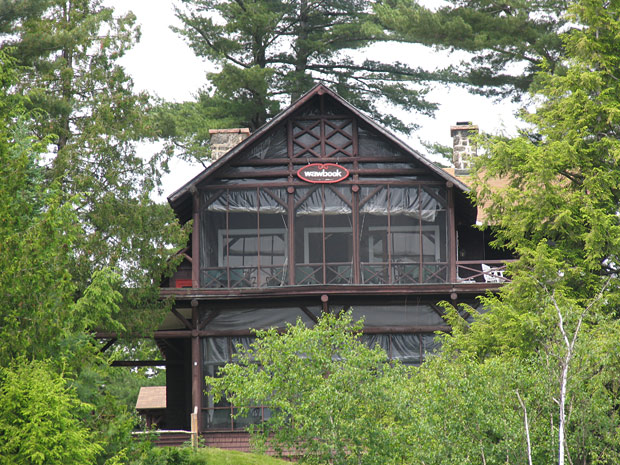 As well Upper Saranac is home to many famous Great Camps and resorts including The Point and the Wawbeek (seen above - now a private camp)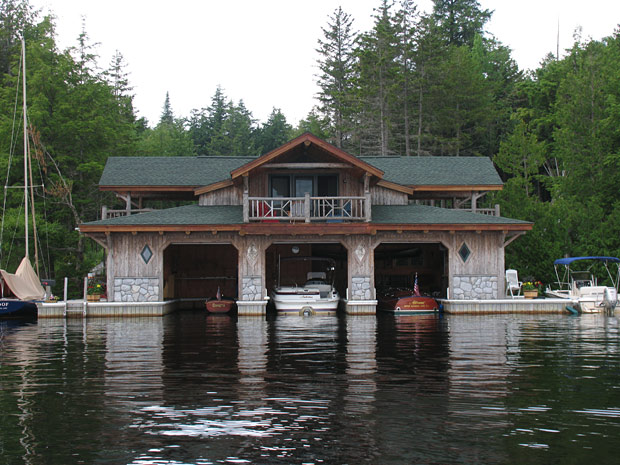 Boathouse at the Wawbeek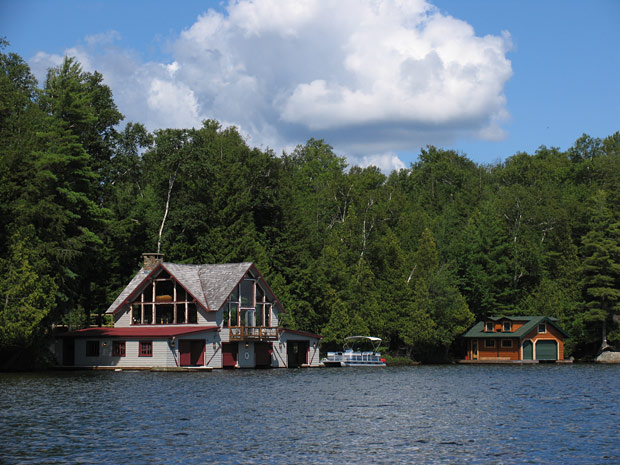 One of our favorite camps on Upper Saranac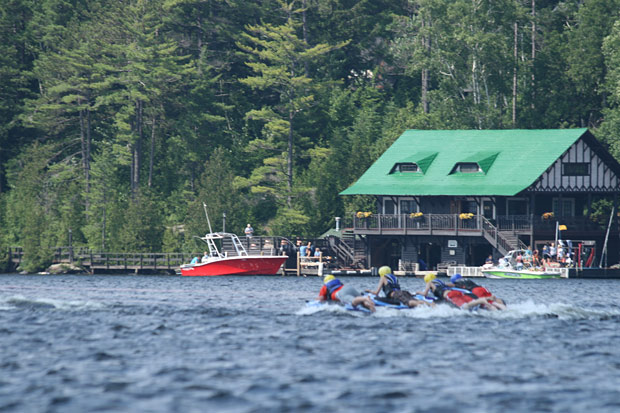 Young Life (Saranac Village) - One of many youth camps found on the
western shores of Upper Saranac
Note: All islands on Upper Saranac are private, except Buck and Green Islands.
Upper Saranac Links
Upper Saranac Lake (Wikipedia)
Upper Saranac Lake (Historic Saranac Lake Wiki)
Upper Saranac Lake Association
The Upper Saranac Lake Cookbook (Supporting the Upper Saranac Milfoil Control Project)
Upper Saranac Lake Foundation (Protecting Upper Saranac Lake)
Saranac Village (Young Life Camp)
Upper Saranac Lake Contour Map
Upper Saranac Videos
Upper Saranac 4th of July Wood Boat Parade 2010
Related Topics: