Wood for a Camp Fire

Camp fires are one of the most popular nightime events at Fish Creek. After the sunsets, you will see camp fires all the way around the ponds as you look out across the water.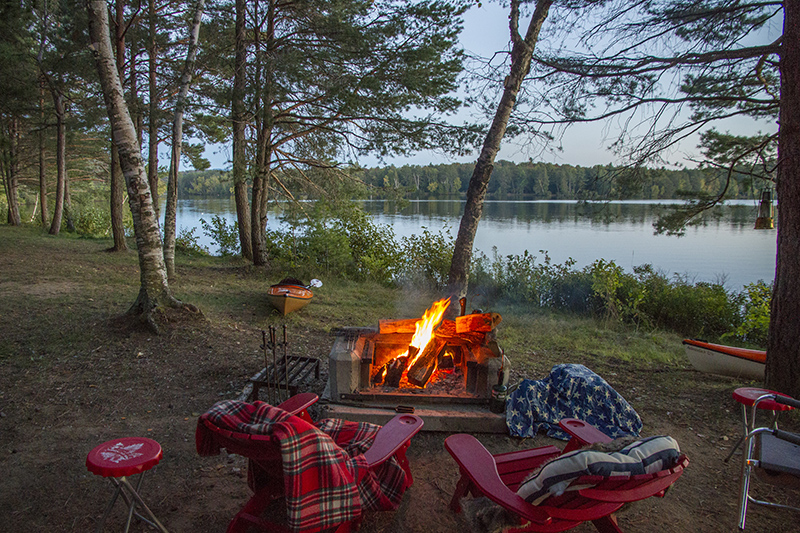 DON'T Bring Your Own Firewood!
The NY State DEC requires that you self-certify that any untreated firewood brought into the park originates from no more than 50 miles from the campground.
The new regulation is now in effect that prohibits the import of firewood into New York unless it has been heat treated to kill pests. The regulation also limits the transportation of untreated firewood to less than 50 miles from its source.
By transporting firewood, you could be spreading diseases and invasive insects that can quickly kill large numbers of trees. Help STOP THE SPREAD and obey the Firewood Regulation:
It is best to leave all firewood at home - please do not bring it to campgrounds or parks.
Get your firewood at the campground or from a local vendor - ask for a receipt or label that has the firewood's local source.
If you choose to transport firewood within New York State:
It must have a receipt or label that has the firewoods source and it must remain within 50 miles of that source.
For firewood not purchased (i.e. cut from your own property) you must have a Self-Issued Certificate of Source (pdf, 100kb), and it must be sourced within 50 miles of your destination.
Only firewood labeled as meeting New York's heat treatment standards to kill pests (kiln-dried) may be transported into the state and further than 50 miles from the firewood's source.
For more information, please see the Frequently Asked Questions for Firewood Regulation. For additional questions regarding this regulation, please call this toll-free number: 1-866-640-0652 or e-mail: firewood@gw.dec.state.ny.us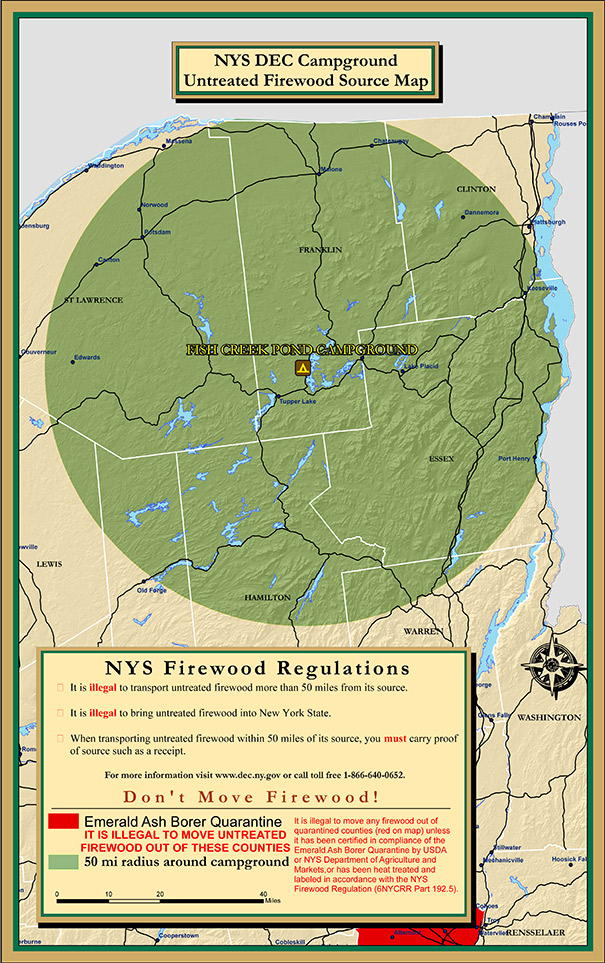 Wood Certification
Print and sign the Wood Certificate then bring it along with you to the campground.
Local Souces of Firewood
The best local sources for wood are as follows:
You can buy wood directly from the DEC at the campground front gate. Cost is $9 for a large kiln dried seasoned hardwood. (NOTE! The campground will not be selling wood this year due to COVID-19).
There is a vendor who passes through the campground selling wood but there is no set scheduled. Your best/easiest bet if you run out is to head over to the Trading Post to buy wood.
The campground store (The Trading Post) sells packaged bundles of wood. The shrinked wrapped kiln dried hardwood is excellent and sells for about $6.48 this year.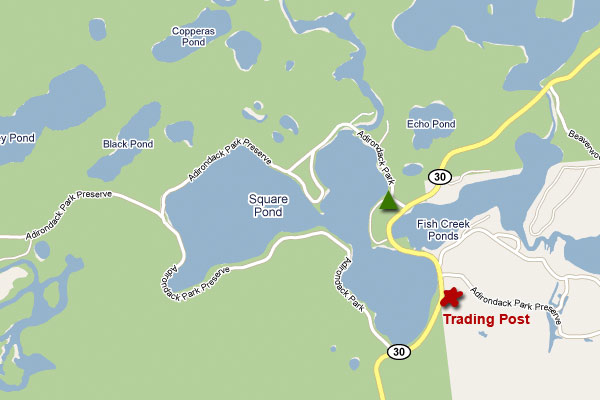 Wood in Tupper Lake (South of Fish Creek) - 15 minutes from Fish Creek
In Tupper Lake (15 minutes south of Fish Creek on Route 3), there is a large wood lot owned by John. (some campers refer to him as George as well as 'Babe') where you can purchase both small and large amounts of hardwood. The lot is on the south side of Route 30, at the bottom of the hill as you drive out of Tupper Lake towards Fish Creek. He is located on your left if you are driving from Fish Creek just before the hill going into Tupper). There is usually a pair of dark green Wood signs out by the road when it is open. John's wood is all hardwood.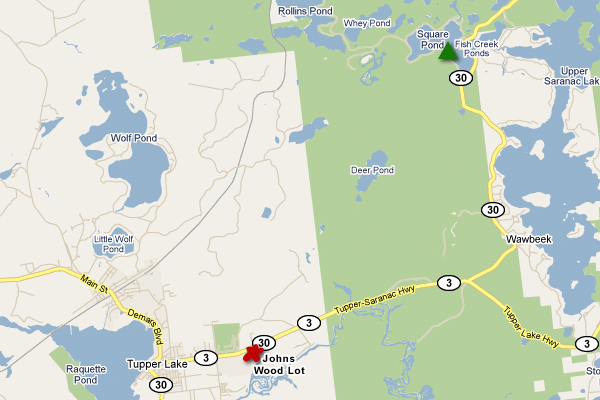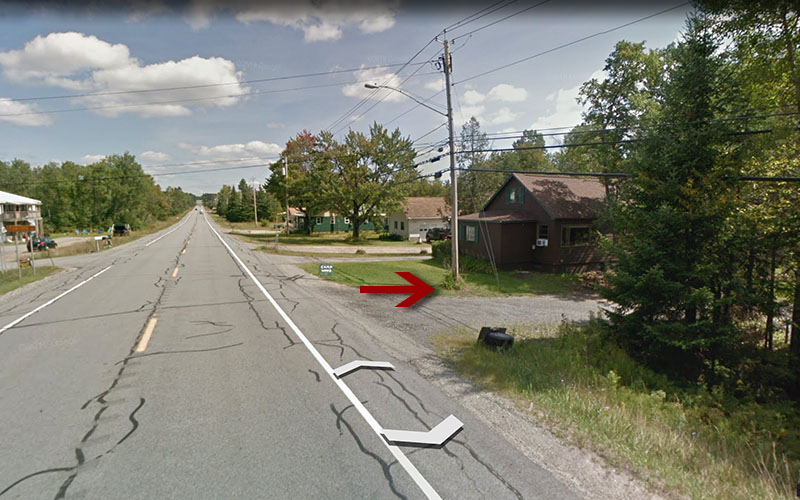 Tupper John's Wood Lot - View as you come down the hill from Tupper
Tupper John's Wood Lot - Entrance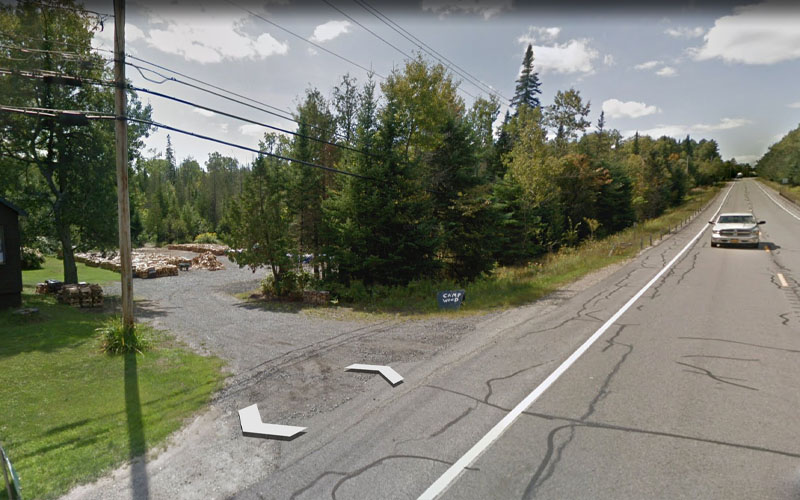 Tupper John's Wood Lot - View looking back up the hill towards Tupper
Wood in Mccolloms (North of Fish Creek) - 20 minutes from Fish Creek
Self service racks of hardwood but you can also by cords of wood too.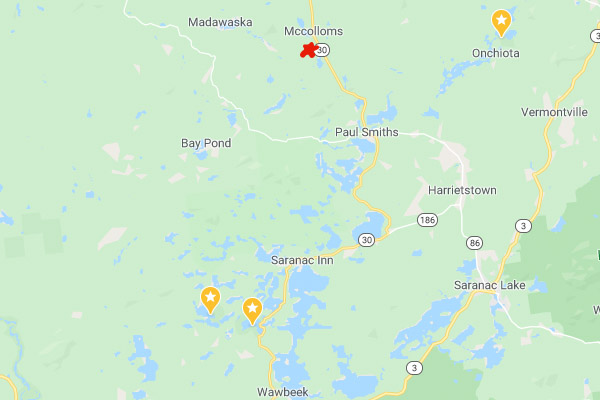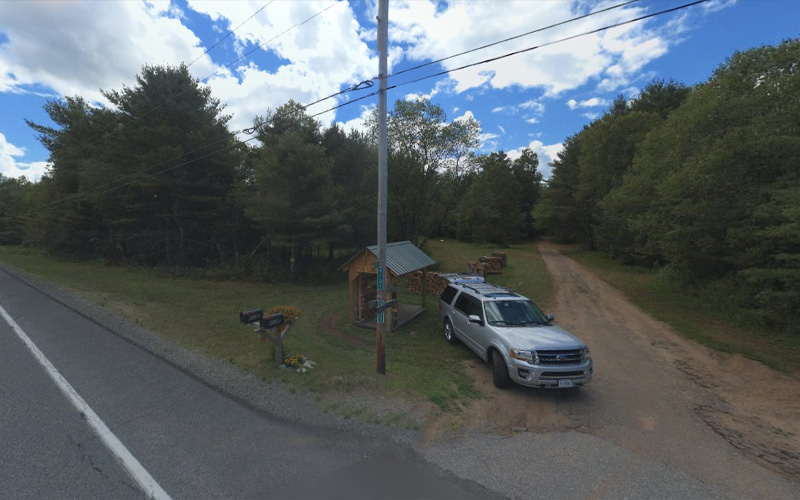 Mccolloms Wood Lot - Road view (its on the west side of the road)
Wood at Lake Clear Junction / Charlies Inn (North of Fish Creek) - 10 minutes from Fish Creek
Self service racks of smaller softwood like birch. No hardwood here!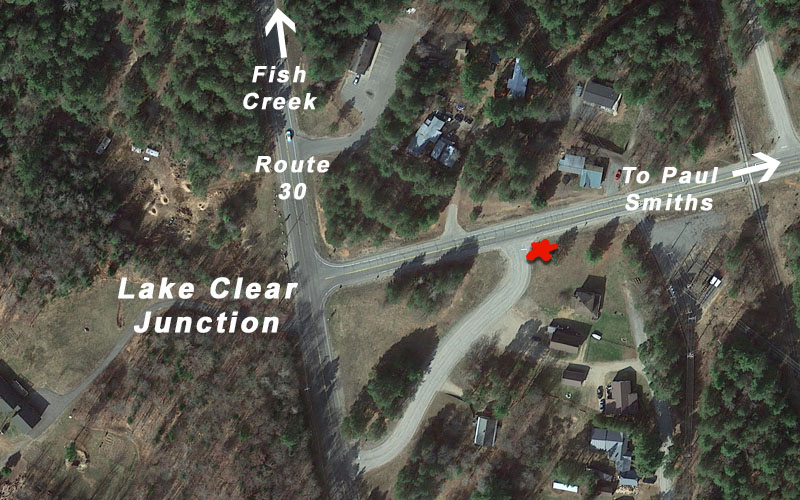 On your way to Fish Creek you will also find several road side, self serve wood racks both north and south of the campground.
Related Topics:
Campground Vendors
Last updated: August 29, 2020 21:16:37