Dave's Fish Creek Dock Project
More Streamlining
The next problem to solve is the issue of how to raise the dock up out of the water without having to lift too much weight... I have the answer!! Here it is... a trailer winch rigged to sit on the support posts, and 'lift' the dock frame up simply and easily... no stress at all! Will only be able to lift the dock up about 2-3 inches at a time from each of the 8 supports, but it should be much easier than lifting while tighting up the leg support bolts. Will test this out next trip!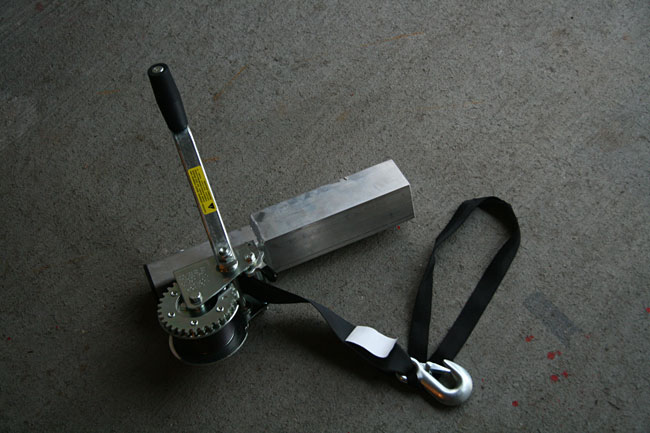 Lifting the dock up out of the water with the winch worked 'ok'. But attaching and reattaching to each of the 6 legs in rotation was time consuming. Sometimes the leg would bind in the sleeve as well. I think we'll scrap that idea.
Ongoing Thoughts and Ideas
I talked about adding a Tiki-Bar to the dock at some point... hasn't happened yet, just on the computer...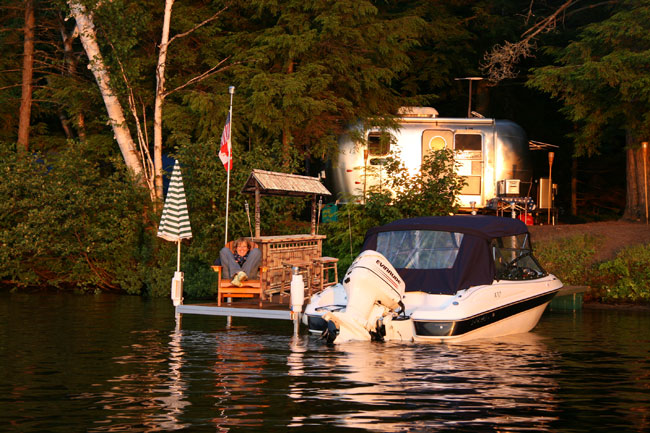 Another idea was to add a triangular section inside the 'L' to increase the dock pad area and support another chair... Hoping to have this done for Spring 2011!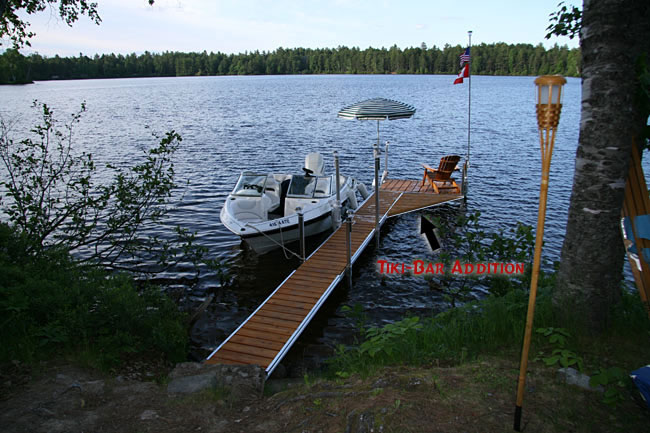 Latest Methods of Assembly and Transport
We further streamlined our 'system' in 2010.
We now...
Assemble and level the dock in the water WITHOUT the decking on. This reduces the amount of heavy lifting and the time consuming nature of raising and levelling a fully assembled dock. Much easier on the back!
Remove the decking BEFORE removing the dock from the water. Much easier on the back!
I labelled all decking and deck retaining strips clearly. The retaining strips are removed and stacked together in order. By keeping the decking and retaining strips organized, installation and removal of the decking everytime isn't the job it used to be.
Store the aluminum frame only on the sides of the trailer. Much less weight to deal with. We can also take the thinner 8ft gang plank and store it next to another 8ft section, but on the opposite side of the rack (ie between the boat and the other 8ft section).
We transport the dock frame on the trailer and the decking in the back of the truck to our storage facility (along with the aluminum legs)
I think we have out system down! We now enjoy minimal lifting, easier assembly and leveling of the dock in the water, and easier load and unload of the dock on the trailer.
More updates shortly, including details on dock accessories and lighting.
Related Topics: